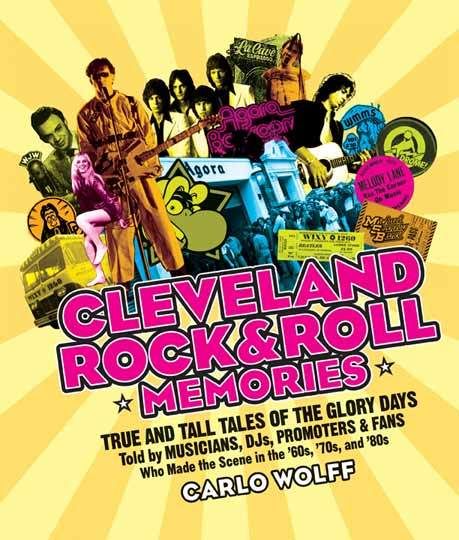 I dream of a lot of things that I want in this life. Another shot at becoming a professional wrestler, an active sex life with Jewel Kilcher, lots of money. None of that stuff is really reasonable anymore; I'm twenty-eight with weak knees… Jewel dates a cowboy. But I would also like some small stuff, like a big library of books about Cleveland. This I think I can afford and I can take time nurturing it and laughing at my friends who know little to nothing about the evolution of WMMS or the history of Brecksville. I started the library about a year ago with Cleveland Rock & Roll Memories by Carlo Wolff and I have been putting off writing a review of it ever since. I even wrote a very vulgar note telling myself to do so but it didn't work. So, I'm doing it now, from Los Angeles.

The cover of this book alone should have your coffee table salivating, it's yellow and kinda ugly with images of Stiv Bators, the Agora, and Daffy Dan. Throw in a few celebs like Big Chuck and Little John and this would have been worthy of framing. Speaking of that old man with a beard, Daffy Dan wrote the foreword recounting how rock and t-shirts changed his life and that's a story of a true Cleveland miracle. The DD is synonymous with drug and rock culture in 1970s/1980s Cleveland so who better to start a book that walks us through a hazy couple of decades?

Memories starts at the beginning with WHK radio and gets us to the mushroom logo days of 'MMS, Beatlemania and Springsteenia quickly. It's done in the same style as Please Kill Me and American Hardcore; the book is arranged with clusters of quotes and memories from the people who lived the rock scene in Cleveland. Fans, musicians and journalists, everyone who can chip in does.

The logos and ticket stubs that Wolff unearthed are even more powerful than a lot of the stories; CCR and Booker T at Public Hall, James Taylor opening for the Who, T Rex at the Yorktown Theatre in scenic Parma. Cue Archie Bunker with his wise words about 'the days.'

The punk stuff is pretty great too. I can only image what it was like to walk into Melody Lane or the Drome to pick up a Pagans record but now I can at least look at the ads those places used to run. There are flyers from shows at places like The Mistake and a benefit for Cle magazine with Pere Ubu playing in a spot called Real World Nite Club on Detroit in 'Lako' (amazing). There could be more about the 70s punk scene but, more over, there could have been anything at all about the eighties scene, it's all together forgotten. But I guess Wolff had to mention the Agora, Jane Scott and Wild Horses (which he does and that's fine). The price of the book is almost paid in full by the ticket stub from a December 26, 1977 show at the Agora; Dead Boys and Devo.

Cleveland's Christ child, Michael Stanley, gives his ten cents through out. Cyrus Erie are his 8th most fave northeast Ohio band. Did you know that? Michael Norman of the PD chimes in with a somewhat hipper opinion; in a list of his favorite songs from the area "It's Cold Outside" by the Choir comes in at number three (right behind "Ain't it Fun").

You're probably bound to learn something about Cleveland's musical history here. If not, the pictures are fun and maybe you don't even need to read the whole thing if that's what brings you to the party. I'm just glad that my library has begun. I have six or seven other books about the city scattered around my apartment. Maybe some day I will get around to reading all of them but writing about them is probably a lost cause.