I had an idea for something I would do on this blog called Classic Cleveland. Even as I start to write the first one, I still don't know what it means. Reviews of classic records, classic shows or maybe a classic person. Probably just record reviews, though. So here's the first attempt.
Stepsister
Autopilot Stuck on Get Down
Smog Veil Records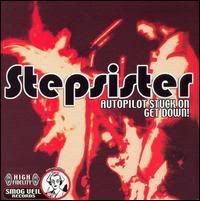 For a few years the band Stepsister totally ruled my social calendar. I've seen them play wild Parma drag-outs, shows at Peabody's where there was barely another soul in the building; I was even hip to their last Cle performance. A new band called Bad Wizard was playing and, sorry dudes (and chick), our heshed stoner rock beat yours from New York. I loved this band so much that I actually ended up in the project that came from their ashes, Amps II Eleven, and it was like a rite of passage. So we enter my first attempt at the Cleveland Classic idea with a very biased look back on a killer record. Hey, I'm drunk on a Sunday and this is like going to church for me.
Autopilot was recorded with what is arguably the best 'Sister lineup if not only the last. The Eakin brothers (the late Scott on drums and singer Tom Dark) always knew how to win us all over: with utter relentlessness. The addition of Aaron Dowell and Attila Csapo on guitars and Tony Erba on bass cemented this band as a steamroller.
'Her Name Was Knife' kicks things off with the WORST song title in the cities' history but also packs a charging riff and a screech so tone deaf that it could only come from Darks mouth. Amazing. This song chugs along and never really advances toward anything other than kicking your fucking teeth in; we see where things are going. 'Wild Ride' comes next with more of the same. At this point you're drunk, your girlfriend has lost her panties and when Dark yells out, 'taking a ride, yeah!', your fist is in the air. This song was always brutal live. Where's the denim, buddy?
'Coming Down Hard' provides a brutal end; full of speed, crashing solos and pierogi-stinking howls. The title holds weight; this is the type of song one creates when coming down and falling right onto skid row. 'Blackout Man' continues the trend of hardly living. 'Yeah, I'm blacking out!' Dark screams behind the first hint of the heavy eighties hardcore influence these guys had. It's like Black Flag met the Hells Angels and a party just kinda ensued.
By the time you get to 'Pay the Price' your head better be swimming because mine sure does. The riff that starts it off is so right-on, if a circle pit doesn't start off the bat, it must be one of those shows I spoke about where I was there alone (Steve Callahan was probably near by, though). The faint 'Get Down!' heard in the break down is further proof of how GREASY this record is.
Now we're down to bare bones. 'Long Time Gone' is placed perfectly, second to last. The sleazy and almost inept attempt to do an epic intro is either a bit of an inside joke or just plain genius as it leads into another fucking rage of punk guitar-rock. If you don't dig a solo in between verses then I suggest you retire to your Pixies records.
Last, but by no means least, is my personal live favorite, 'Big Bad World'. I remember a group of us 'Sister fans falling over ourselves and onto the stage of the Revolution on Brookpark Road; arms laced around each other mouthing the chorus together. 'It's a big bad world/and it's all mine!' Life was fine, brother. On disc the song doesn't seem to transfer the urgency I felt when they would close the set with this song. Fuck, I was twenty-one and really drunk, all of the time. Today it reminds me of a lot of the songs I hear other Cle bands playing. Makes sense that the band no one ever went to see would, in turn, influence a whole crop of bands in its wake. As I continue to listen, the goose bumps are beginning to return. Sorry, but this was a time in my life, man. Not much has changed. It's still a big bad world but I'm no longer sure it's even remotely mine.
There's another weird scream from Erba before the song starts to leave us. Where was he when he did those? He sounds like a fan sitting on a stool at the back of the Jigsaw (before they had the room with the stage). The guitar work begins to shake and boogie, turns are being taken and it sounds like what it is: a barroom jam made by working class blokes.
I'm glad this record was made. I'm also glad to have had these dudes in my life for a year or two. No matter what was going on in my life, I KNEW that Stepsister would be playing somewhere that week. And they always were.
I'm not going to bother with rating a Cleveland Classic. I'm only reviewing records that meant something to me. I'm most important. Stepsister was most important. Then they broke up.